Welcome to the Week That Was on TheVirtualReport.biz, where we bring you the highlights, biggest news and hottest topics from the world of VR, AR and MR business in the last seven days.
Top Stories
Apple's Patent For iPhone-powered AR Glasses
Official paperwork outlines AR glasses working in tandem with iPhone or iPad; possible Watch use as camera.
Sansar Social VR Now In Creator Beta
The public can now create virtual experiences to sit alongside professional work in social VR service from Second Life developers.
AltspaceVR To Close 3rd August
Social VR provider fails to secure additional funding, shuts down Thursday.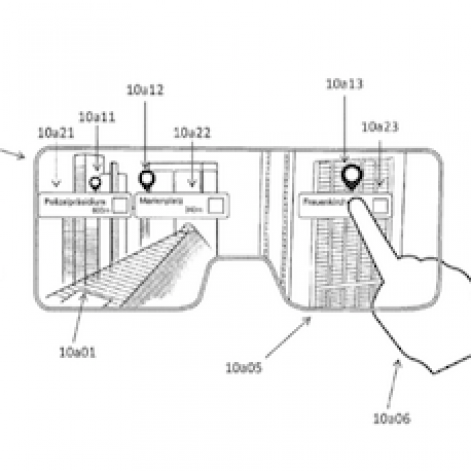 Apple To Release AR-Ready iPhone 8 This September?
Earnings call reveals projected sales figures that point to new iPhone hardware.
HP Reveals Professional VR Backpack PC
PC Hardware firm reveals wearable PC that also docks to transform into a desktop, saying 'Virtual reality this powerful is no toy'.
MARS 2030 Uses Satellite Data To Build Its World
FMG Studios' first VR experience takes users to another world.
Will Palmer Luckey Save AltspaceVR?
Oculus co-founder asks the Twitterverse if he should step in to save social VR firm from closure this week.
Two Out Of Three nVidia Edge Winners Are VR Projects
Epic games has announced the first winners of its new monthly contest and VR is well represented already.
Are Brain-Computer Interfaces The Future For XR?
Michael Thompson, Vice President at Neurable, explores the human fascination with fantasy and predicts a productivity revolution through intent-driven interactions that could help drive mass adoption of VR, AR and MR.
The Best Apple ARKit Test Projects [UPDATE: 4th August]
The general public won't have long to wait to see what AR developers have been cooking up in ARKit; here are some of our favourite experimental project videos so far.
Regulars
Focal Point: How Can Indie Devs Make Money From VR?
Our panel of industry experts identify revenue streams for start-ups and studios of all sizes working in VR, AR and MR. XR
Sansar's Social VR content boom; WMR unboxing; Oculus third party headsets; ARKit the best; EA's VR pause; Rift > standalone VR; Wingnut AR; VR disrupting industry; Manipulating the mind.
Oculus Co-founder Joins VR Camera Co
Lucid VR appoints Jack McCauley as Chief Engineer, heading up manufacture of the VR180 LucidCam.
Steel Media is now looking for interns across its range of sites and events, including Pocket Gamer and TheVirtualReport.biz
Want To Work On Our Global Events?
Steel Media is expanding its events team for our ever-growing series and we're looking for a conference content producer.
AR At XR Connects Helsinki 2017
From museums to magic, we've got AR well and truly covered at XR Connects Helsinki 2017.
Win One of 10 Indie-Only Expo Tables At XR Connects Helsinki
Sub-zero competition for indie devs – win FREE expo space plus two tickets to the September event.
See you in seven days...