Oculus is making good on CEO Mark Zuckerberg's promises at last year's Conn3cts event that VR has huge social potential. The Californian company has now released new updates intended to make VR a more sociable experience – after all, as they say, "The transportive magic of VR is even better when it's experienced with other people."
The first is Oculus Rooms 1.2, which now allows you to view 360-video with your friends in Rooms' Viewing Dome. Users in other areas of the room will be able to get an idea of what you're watching from outside the dome.
What An Event!
Oculus Events is intended to make it easier for Gear VR users to find friends and jump into an experience together in VR. Oculus Home will highlight both current and future public events for you to join or schedule, covering everything from multiplayer gaming to tech talks. Oculus says, "This adds an entirely new level to social interaction in VR."
Oculus Events has already started rolling out to English speakers, with other languages to follow.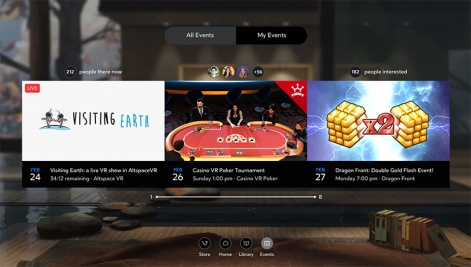 Livestream to Facebook
Gear VR users also get Facebook Livestreaming from the Universal Menu in VR. Already available to Gear VR users outside of the USA, the functionality is coming for anyone with the latest version of Android on their Samsung phone in the coming weeks.
Oculus Voice Speech Recognition
English speakers now have the functionality to navigate VR by voice on both Rift and Gear VR. Users can search by voice from Oculus Home to navigate games, apps and experiences. Voice search is also available within Rooms, where users can search for any Facebook content.
Oculus has stated that it intends to add more functionality to voice search over time, such as seeing if a friend is online or contextual commands to invite people to a play a game.