Oculus made a big deal about the social potential for VR at yesterday's Oculus Conn3ct event in California. Many of VR's detractors point out that the technology can be isolating, with a disconnect to other people. Mark Zuckerburg, CEO & Founder of Facebook, was quick to explain that, "Virtual Reality is the perfect platform to put people first because of presence." He also repeated the importance of being, "There with another person or in another place".
He demonstrated the social tech they're building with the help of Lucy and Michael, showing 'cartoon' avatars that can show facial expressions such as smiling, confusion or surprise. The group relocated to the bottom of the ocean, Mars, and – of all the places they could imagine – Zuckerburg's office in FaceBook HQ.
Mark explained they could, "Do anything we want together" before showing the trio playing cards and chess.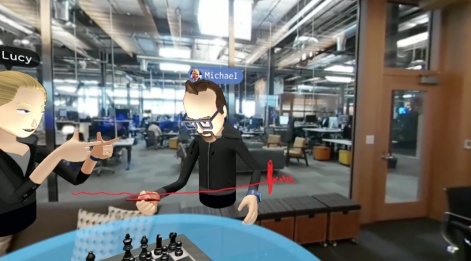 Mark then checked in on his dog, Beast, at home while bringing his friends with him. The claim is, "People first - and you can bring in any experience you want."
I See You
Nate Mitchell, Co-founder and Head Of Product, demonstrated Oculus' avatar creation tool. The Avatar SDK will make it easy to introduce Touch and hand presence so that, "People can feel like themselves and recognise their friends."
Mitchell describes this as, "A magical experience." The avatar editor will be accessible via Oculus home, with a billion permutations of options. Avatars will launch alongside Touch and come to mobile in early 2017.
Let's Get This Party Started
Lauren Vector, Product Manager, Platform, promised that you'll be able to, "Hang out with the people you care about even if you can't be physically present with them." Between invites [sic] and matchmaking with over 80 apps on the store already using it, the improbably named Vector said that, "Today we're taking the next step towards a social future."
With the introduction of Parties, eight people can talk across any apps, but as well as group voice call, she announced Oculus Rooms. Using this functionality, a user can start a party with virtual friends with a single click, then join their friends in a virtual space to watch videos on Hulu or play minigames. "When you gather your group, you can seamlessly jump into another app."
The coordinated app launch API will be part of the SDK, shipping on Gear in a few weeks and on Rift next year.