After months of speculation about Apple's intentions in the VR and AR space, new evidence has emerged this week that the Cupertino company is actively targeting AR for its mobile handsets. Apple has been granted a patent that details an AR mapping system that uses the iPhone to visually augment live-video feeds. The U.S. Patent and Trademark Office granted Apple's U.S Patent No. 9,488,488 named "Augmented reality maps" on Tuesday, 8th November.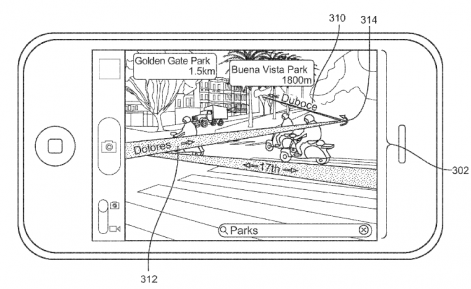 As outlined in the image above, after inputting a search term, the AR map system will overlay digital information like street names, Places Of Interest and distances over a live video feed captured by the iPhone's camera.
Further, the system will automatically collect data from on-board sensors to determine the iPhone's physical position in space as well as its tilt and alignment. With this, it seems that Apple plans to allow users to transition seamlessly between the live-video AR feed and a bird's eye view, as is shown below:
The full process in which this all takes place is displayed in this flowchart also found on the patent:
The AR technology required by features like this is very complex, which explains why Apple's original filing of the patent back in February 2010 didn't bring anything to market at the time. Technology has moved on considerably since and knowing that Apple filed the patent six years ago gives more proof of the company's long-term interest in AR.
Indeed, Tim Cook, Apple CEO has shown a continued interest in AR technology even if the company hasn't made any official announcements on what it plans to do with it. In an interview, Cook compared VR and AR, observing that AR is going to be the, "Larger of the two, probably by far." Apple has also made strategic AR segment investments, such as acquiring motion capture firm Faceshift last November.
Apple's ambitions in the AR sector have long been the subject of great interest within the industry and with the release of this patent, we now have more concrete evidence of AR's intended place in the Apple ecosystem.