VR Connects San Francisco is now over and what a fantastic first foray into North America for the VR Indie Pitch. Not only were we able to once again shed light on some of the most exciting indie games currently being developed from the world of VR, but we were also able to hand out some well deserved prizes for the top three.
All of the entrants were judged by an expert panel, including Immersion's Kevin Keating, resident Big Indie Pitch judge Steve Demeter, our very own Dave Bradley, and the highly experienced Brandon Laurino from Otherside Entertainment who also presented a keynote in the Future Visions track. Yours truly also played a part as well.
However, it's more about the games than the judges and this year there were some exceptional games being showcased. In fact, it wouldn't be too much of a stretch to say that this was arguably the strongest VR Indie Pitch yet. From taking down robot invaders, to helping an adorable robot escape, to even an 80s infused adventure with Cats, The VR Indie Pitch literally had something for everyone this year, proving that the VR community continues to push the boundaries.
We've already looked at the winners and runners-up, so let's take a look at not only the top three, but all 10 games that pitched this year as a part of VR Connects San Francisco 2017….
VINDICTA is first person shooter in which players utilise arm-swinging locomotion in order to navigate their way through one danger-filled room after another. That's not all though, as players will also have to climb, crawl, take cover, and dodge, in order to take down the numerous robot enemies. Al in all, VINDICTA is exactly the sort of game VR was made for and a worthy winner of the VR Indie Pitch.
Runner-Up: Twobit Odyssey - Squidbeam Studios
Twobit Odyssey is a unique VR puzzle-platform game coming first to the Gear VR and later to the Oculus Rift. It was also the surprise hit of this year's VR Indie Pitch, and a fantastic runner-up. In Twobit Ogyssey the player must use simply sight alone in order to aid an adorable little robot trapped in a strange room in a strange room, helping him tackle problems and puzzles, and ultimately unravel the mysteries of the dark and enigmatic place.
Third Place: Kartong - Death By Cardboard! - SVRVIVE Studios
Kartong - Death by Cardboard! was this year's third place winner, taking the prize thanks to its unique presentation and ever-changing game design. In Kartong, players must navigate a miniature cardboard city turned into a malicious science experiment, one in which the traps and dangers alter and shift every time you enter. What's more, players will also have to sneak their way past the deadly Mr Chuckles, whose sole aim is to terrorise and eliminate the player.
Honourable Mention: Grave VR - Broken Window Studios
If there was a fourth place prize, then it definitely would have been handed to Grave VR. Grave VR is a surrealist virtual reality horror experience where the player must utilise the power of light in order to ward off their enemies and hopefully survive to see tomorrow. Designed specifically from the ground up for intuitive motion controls, Grave VR offers players a chance not only to try their luck in the wave-based survival mode, but also within a fully fleshed campaign.
Sisters - Otherworld Interactive
Sisters is an episodic horror room escape game for virtual reality, and is one of the best looking games we've seen at a VR Indie Pitch. Utilising full room scale gameplay, players find themselves trapped in a long forgotten house. From here they must use all of their wits and intelligence in order to explore their surroundings, solve puzzles, and even evade the ghostly inhabitants in a quest to try to escape before it's too late.
Kingdom Watcher - Subdream Studios, Inc.
In Kingdom Watcher, players combine the best of skill and strategy for a calculating and intense battle against the Troll King and his army. Blending tower defence with shoot 'em up, players must defend their castle from a colourful cast of cute yet evil enemies in a fun and engaging game for the Gear VR. What's more, Kingdom Watcher also utilises the new GearVR Controller for an immersive archery action for a casual yet engaging mobile VR experience.
Ripple Effect - Well Played studios
Ripple Effect is a free-to-play gaming platform designed to hold dozens of universes, each holding a unique and engaging experience. From climbing mountains, to flying through the sky, and even to PvP shooter action. Ripple Effect isn't just a game, it's a platform for one unique VR experience after the other. In fact, developers Well Played Studios promise that following Ripple Effect's launch, players can expect a a new game each and every week.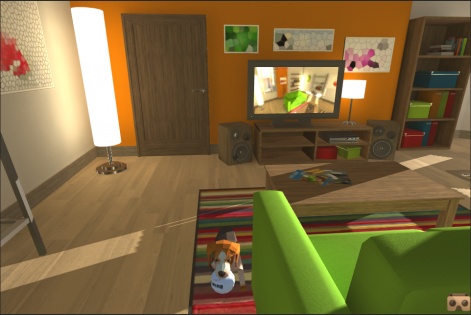 Unable to have your own pet? Well never fear, as that's what Virtual Petality is for. Taking the idea of Nintendogs for VR, Virtual Petality gives you the chance to raise your very own pet dog, feeding it, teaching it tricks and generally just loving it. Moving forward, Orkitec promises to cover an entire range of virtual pet animals. Pet Penguin, anyone?
Combining all the best bits of the 1980s with the joy of Cats, Magik Cats is a Gear VR title which looks to combine multiple different genres into one ultimate experience. One that's both stylish and immersive. What's more, through this CatsAndVR is aiming to make Magik Cats the kind of VR experience that will grab the players imagination, and in turn mean that they'll never want to leave their neon infused feline world.
Clash of Platforms is a fast paced social PvP title that pits one player inside the VR world, against another outside on their mobile phone. VR players climb pillars, while trying to avoid spells cast by mobile players. Whereas mobile players must navigate a maze of cannons to position themselves to fire off spells.
Well there you have it - all 10 entries from this year's VR Indie Pitch at VR Connects San Francisco 2017. As you can see, this year saw quite a diverse array of experiences presented to the judges, all of which were interesting and unique in their own right. A big thank you to every single team that came along and pitched, alongside all the judges who gave up their time to experience some of the most exciting indie projects in VR.
We look forward to seeing what the future holds in store for all of the titles pitched, and of course to seeing more VR indie projects when the VR Indie Pitch returns to Finland this September for XR Connects Helsinki 2017.