Facebook CEO, Mark Zuckerberg, may have opened their F8 event yesterday in fine form proselytising about AR – and if you haven't caught up with his opening address, find out the key points here - but he wasn't the only member of senior management to take to the stage to disclose the social media company's progress in the sector.
Camera Effects
VP of Platform & Marketplace, Deb Liu, came onstage to share, "The next platform we're building and how you can be part of this AR world". To coincide with F8, Facebook has 'widely' released its Camera Effects platform.
This consists of two tools. The first is called Frame Studio and enables users to create and add frames to photos - we remember doing this with a GameBoy Camera so, yeah.... It's now available globally.
AR Studio Announced
The second tool was actually announced by Liu at F8 and is called AR Studio. It gives users the functionality to create masks, scripted effects, animated frames and other AR that reacts to movement, the environment or interactions during live videos. Even though Liu told us that this is all possible without writing a single line of code, it's basically Snapchat video... AR Studio is now open for beta applications.
Mass Effect In AR
With more than 50 hours into the campaign alone, our little Sci Fi ears pricked up when she mentioned EA's work with AR Studio on Mass Effect: Andromeda. Sadly, this isn't a new adventure or even virtual game mode; it looks like they've brought the Apex HD companion app into AR, with mission stats and leaderboards displayed over a Mass Effect style environment. Another use was shown by Liu's real head 'wearing' a virtual Mass Effect helmet, tracking in real time.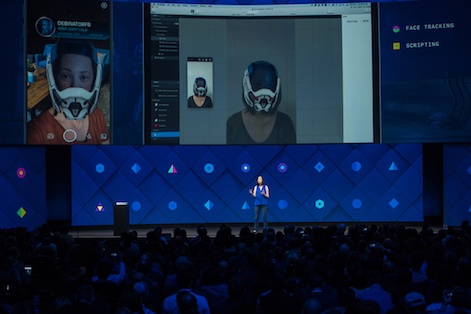 Full-Body Tracking To Come
And yep, you guessed it; to keep the analysts and naysayers at bay, Liu towed the now familiar corporate line from F8 and reminded us that this is the, "Very first step in a long term journey and we're just getting started". Future enhancements will develop hand-tracking and full-body skeletal tracking, reminding us of Zuckerberg's earlier words from F8 that, "We're using primitive tools because we're still on the journey to building better ones."
AR Studio will be available from Giphy 'soon' and will be available to developers via the Camera Effects SDK in coming months.
F8 2017 continues today, with a focus on long-term investments in connectivity, AI, VR, AR and hardware. Check back for updates.