We ask our industry panel - the brightest and sharpest VR professionals from around the world - one question about the XR industry, business, technology or trending stories every week.
Question: With qualifying underway for The VR Challenger League from Oculus, Intel and ESL, what will it take for competitive VR to blow up in the same way that eSports have?
David Gattig, CEO and Co-Founder at Avrlon VR Studio
"eSports has been growing massively with a market size of $696 million and a rapidly growing audience of 191 million. I'm a very competitive player myself, having taken part in several eSports tournaments, worked at Riot Games - developers of the most played eSports game, League of Legends - and my team and I are developing our own competitive Virtual Reality game, Elemental Combat.
"vSports needs at least three things in order to blow up similarly to the current eSports trend:
1) "Alluring incentives: there needs to be a proper incentive for people to start investing their time and effort into becoming competitive VR players. Price pools are important incentives, as are potential sponsorships and the social recognition and bragging rights.
2) "A competitive infrastructure: this is crucial to establish a vSports scene as they lay the ground work for rules, tournaments and the organisation of teams and players.
3) "A critical amount of players: most importantly, it's paramount to have a critical mass of players until a competitive scene is formed. The bigger the community, the bigger the competition and the potential audience interested in watching the teams and players compete. With a bigger audience, more brands will be interested in sponsoring tournaments and players, which in turn will lead more players to join the competitive VR gaming scene.
"I believe competitive VR gaming will become a thing in the future. It's more natural to watch than games on a 2D screen and there will be a lot of crossover from traditional sports to VR gaming - now we just need the players."
VR eSports players will have more in common with traditional sportspeople than desk-jockeys.
Jonathan Wagstaff
Jonathan Wagstaff, Group Business Intelligence Manager at Exertis
"In terms of VR eSport viewing, Valve already has a headstart with Dota 2's spectator mode; it caused a stir with the press when it launched, but I've not heard much about uptake nor expansion since. It's undeniable that the ability to put yourself directly into the action is a new level of viewing immersion.
"One big difference I would expect with VR eSports players is that they will have more in common with traditional sportspeople than desk-jockeys. I've put in a couple of hours so far with Echo Arena and managed to catch and throw the disc about twice. It seems my poor hand/eye coordination has followed me from high school into VR. It's already clear that VR sports will require a very different skillset to most eSports and this will make VR Sports far more appealing to a wider audience less receptive to Orc and Elves controlled by a mouse and keyboard.
"I have to praise Oculus Studios and the Echo team for creating both an excellent single-player and multi-player game with complementary control schemes. Likewise, The Unspoken offers a VR competition which, thanks to the beautiful visuals, will engage far more members of the public than just D&D enthusiasts."
As an alternative revenue stream for VR game titles, eSports is often overlooked and should be a realistic proposition beyond unit sales.
Tanya Laird
Tanya Laird, Founder and CEO at Digital Jam
"The potential for VR eSports is massive. The nature of eSports means that often the success of a title is not about how many units were sold (hugely relevant given the low sales numbers for VR gaming at present), but how the community gets involved. As an alternative revenue stream for VR game titles, eSports is often overlooked and should be a realistic proposition beyond unit sales so for anyone publishing a VR game title, start thinking about which eSports tournament operator you could be speaking to now rather than later.
"It's worth noting that pro gamers for VR eSports may well come from the actual athletic community. We expect to see more physical requirements for VR eSports with pro players behaving more like pro athletes in both their psychological and physical training programs. The real potential for VR eSports lies with the spectator element of audiences observing others experiencing an immersive experience which makes now the ideal time to develop a VR eSports offering across both Arena tournaments and broadcast/streaming.
"If anything, the potential to monetise VR eSports opens the way for traditional sports and arena industries to understand how to best utilise and monetise VR/MR technologies. Intel has been heavily invested in eSports for a long time, moving into VR eSports is a natural next step and one that has been a long time coming."
A consistent and constant user base is paramount, and I doubt VR has reached the critical mass for this.
Thomas Bidaux
Thomas Bidaux, CEO at ICO Partners
"I have very low expectations for this very first foray into VR eSport. I think this a very welcome initiative, but it's also incredibly early. eSport is very much about viewership and while anyone can watch the matches, I doubt it will draw much interest outside of the current VR audience, which is still quite niche.
"In the past, many game companies have tried to kick start an eSport movement around their games by injecting money into the eSport ecosystem extremely early. However, for that ecosystem to exist, a consistent and constant user base is paramount, and I doubt VR has reached the critical mass for this; even more so if you limit it to Oculus owners. We might see some established eSports team having a go here, as a low hanging fruit to grab the cash prizes, but I doubt any of them is considering a strategic move into VR eSport for now."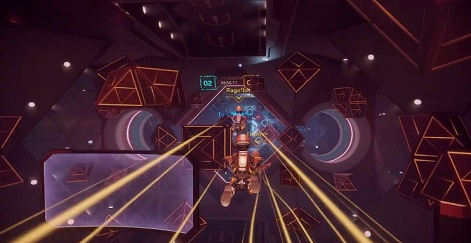 Brynley Gibson, Head of Studios at Curve Digital
"What makes great eSports? Four things:
Popularity of title
Entertaining visuals
Gameplay complexity
Player skill and flair
VR has to mature as a medium before it can nail eSports.
Brynley Gibson
"How the players are interacting with the game does not really matter. VR titles need to mature further across the board to match the traditional platform rivals, especially in popularity and I think also complexity. Still, I think we have a good start and with eSports already a developed concept, we'll see accelerated growth.
"The Unspoken is visually impressive and great fun, but I worry the grandiose nature of its gameplay won't transfer across to viewers; a lot of the appeal of that title is embodying a wizard. Echo arena is more naturally sport-like and has continuous movement, which will give a nice ebb and flow to proceedings, but doesn't visually match up; seeing wiggling contorting IK'ed avatars is fine when playing, but rubbish to watch.
"VR has to mature as a medium before it can nail eSports."