When Head of Xbox, Phil Spencer, first introduced Microsoft's intention to release 'the world's most powerful console' - then called Xbox Scorpio – at last year's E3 he said, "The next step change for gamers and developers must deliver... high fidelity VR".
This year, Spencer revealed that Scorpio has become Xbox One X – and didn't mention VR once. He didn't even mention MR, which is what Microsoft has decided to call any kind of immersive tech. So what's going on? Has Microsoft abandoned the idea of console VR after all?
MS Believes In MR
In an interview with the BBC following the E3 presentation, Spencer pointed out that this show was about consoles and great games. He went on to clarify that, "We are believers in Mixed Reality" and that the company is focusing on MR for PC at this time. Spencer has previously shared his doubts about mainstream adoption for VR in the living room with the current technology's requirement for inconvenient cables. He repeated this observation yesterday saying, "When I do this on my PC, I'm closer to my PC; that seems to be a much more user friendly scenario". He acknowledges that MR is still in its infancy and explains Microsoft's focus on PC saying, "We're just seeing developer traction on the Windows side and we want to make sure we're there as a platform to nurture it".
Moving Goalposts
As we reported at the time, following GDC, Alex Kipman, Technical Fellow at Microsoft shared in a blog on the Windows website that, "Our plan is to bring mixed reality content to the Xbox One family of devices in 2018."
Microsoft's complete omission of MR at yesterday's E3 presentation suggests that's no longer the case. But maybe the signs that Xbox WMR was a way off were there before. We wrote that in an interview with Stevivor, Spencer said that while, "We designed Scorpio as a VR-capable console.... Whether that happens this year, next year or the year after… It's so early, I think we're a couple of years before we'll really see [VR] hit mainstream."
More In The Future
It seems that Microsoft's Windows Mixed Reality ecosystem will remain a PC-only proposition in the short term, with console to follow when wireless is affordable and consumer interest is high enough. But it's still very much on the table, as Spencer cryptically said following yesterday's presentation, "We'll have more to talk about in the future".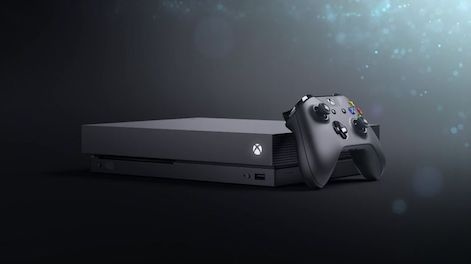 Xbox One X News From E3
Project Scorpio is now called Xbox One X
Will launch on 7th November
Will cost $499 / £449
Delivers true 4K gaming with HDR
Backwards compatibility with original Xbox games
Forza 7 launch game
Some existing titles will receive a free 4K update