Back in October 2014, the virtual reality input device manufacturer Leap Motion announced that it was teaming up with IndieCade for a VR game jam competition, the winners of which have just been announced.
But before we get into the top innovators in the realm of hands-free game manipulation, it's interesting to note that Leap Motion extended its prize pool to include three additional honourable mentions and cash prizes for the top 20 finalists.
Apparently this is due to the high level of the entries making it particularly tough for the judges to decide.
So congratulations to all involved from Pocket Gamer.
Oculus inspired
Also of particular interest is that the top three winners all involved the Oculus Rift virtual reality platform working in conjunction with the Leap Motion. It's not a massive surprise, given that Leap Motion recently released a mount for the Oculus HMD, but clearly the development world is looking at these two devices as being inseperably compatible.
The first prize went to Henry Hoffman's Aboard the Lookinglass for its "sci-fi atmosphere, mind-expanding puzzles, and unique game mechanics."
This Portal-like game allows players to see into the past by raising their left hand, and catch a glimpse of the future using their right. The display changes behind the player's hand, allowing puzzles to be solved by viewing and manipulating in-game items in four dimensions. Incredibly cool, and very deserving of the $5,000 first prize.
Martin Schubert's Weightless took the $3,000 second prize, by putting players into zero gravity and allowing them to manipulate and play with a host of objects. There's something of a mature Katamari theme to the game, which Leap Motion pegged as being an addictively theraputic experience as well as a great game.
World of Comenius by Tomáš "Frooxius" Mariančík (a name you might recognise from our Wearables Mavens group) bagged third place and $2,000 thanks to his highly experimental VR experience that takes you into inner space.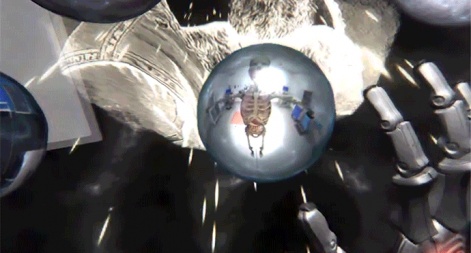 Now the competition is finished, entrants are being invited to prepare their games for the Leap Motion App Store, though it's pretty clear that we'll likely see them on, or close to, launch day for the Oculus Rift digital store once the platform eventually hits retail.
Check out the full top 20 finalists in the Leap Motion 3D Jam here, and let us know which ones grab your virtual attention in the comments below.