It may have been founded less than a year ago, but VR outfit 3rd Eye Studios has a pretty impressive heritage. The team are veterans of Remedy Entertainment, Unity Technologies, and Bugbear Entertainment amongst others. Guv'nor Kari Koivistoinen has accumulated over 15 years as a producer in the games industry. He produced last year's Quantum Break as well as working on Xbox 360 classic Alan Wake. Now he and his Helsinki-based team are exploring the possibilities of VR. And they're sticking with the TV and movie feel that defined those earlier Remedy games.
"On the TV side, big anthology series from the classic 1950s Twilight Zone to modern TV series like Black Mirror have had a massive influence on us," enthuses Koivistoinen. "Those series have a great mood and structure. But if we talk about the sci-fi only, Space: 1999 and 2001: A Space Odyssey inspired the team a lot." A name-check for vintage Gerry Anderson series Space: 1999? We're on board!
Downward Spiral: Prologue is the team's first title, launched in March. Inspired by 1970s sci-fi, its ambition is to be 'the most immersive journey in VR'. It's the first game released using 3rd Eye Studios' technique of moving freely in VR space without players suffering from motion sickness. It features three games modes (solo, co-op and deathmatch), the latter being zero gravity combat for up to eight players. The solo or co-op journey is an atmospheric experience lasting 30 to 40 minutes and can be played with or without room-scale kit, featuring music by fellow Finn, Ville Valo of rock band, HIM.
We caught up with Koivistoinen to ask him about the principles of the game and what players can expect.
Our team is super excited about the possibilities of VR.
The Virtual Report: Tell us about the background to this project.
Kari Koivistoinen: Our team is super excited about the possibilities of VR. We really wanted to create a true native VR experience, break all the old rules and leverage the strengths of the VR technology. The idea for the Downward Spiral anthology series was there right from the beginning, but after prototyping in August, we began developing the idea for Prologue. It's the first instalment. Every game will have different main characters, story and setting but are knitted together with the unsettling backstory, which will open episode after episode.
Every moment in the game you really feel you are somewhere else.
How are you creating a truly immersive experience?
The very reason why people want to play VR games is for immersion, and we wanted to maximise that. We designed Downward Spiral: Prologue so that every moment you're in the game you really feel that you are somewhere else. There's a very good reason why we picked zero gravity to ensure that the weight of the items feels right and we also eliminated all the elements that could potentially break the illusion. In every medium there are limitations, but if you have enough passion, skills and persistence you can come up with very good solutions.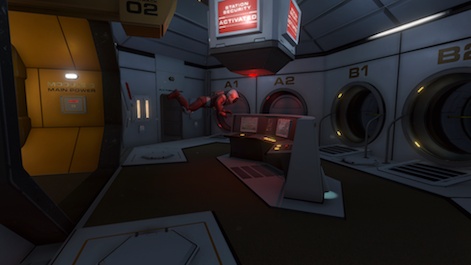 With such intense zero-G action, how are you tackling the problem of motion sickness?
In our 3rd Eye core technology and tools there are actually many different kinds of solutions for tackling motion sickness. Floating in zero gravity is just one solution. It required a lot of brainstorming and trial and error with a vomit bucket. Luckily, we have people in our team that have been thinking about a solution for this for years. Without going into too much detail, it's not one or two things like field of view limitation. There's a lot of things happening under the hood and partly it's just because of smart design choices.
We really have to break all the old rules and start from scratch.
What are the other challenges of making a game in VR?
We have a seasoned team, but we took the mindset that we really have to break all the old rules and start from scratch. Design practices that did work previously are far from perfect in the VR space. There are so many solutions you have to come up with when you develop VR games. Simple things, such as interacting with one single button, was surprisingly challenging. While finding solutions for things like moving in zero gravity, storytelling, motion sickness and making the co-op work helped to fuse our core technology and tools.
How often will you roll out a new Downward Spiral episode and what sort of journey will we be going on?
Downward Spiral: Prologue is the beginning of a space thriller, whose mystery will unravel over time as we release future episodes. It's structured as a modern TV series and episode one will be out early next year. In future content, players will uncover an epic compelling narrative with new characters, plot points and settings added with each subsequent episode.
Tell us about your relationship with the modding community. You're releasing your Downward Spiral tools to other VR developers? What's the ultimate goal with that?
Our mission is to help VR to become mainstream and the answer to that is to build great content. So we want to help other developers with this common goal. We'll reveal more details about our VR technology this year and will launch it 2018. The modding community is very close to our heart and we are working hard in order to support them in the future.
We need content that will make people buy VR headsets.
What do you think is needed by the industry in order for VR to become a mainstream success in 2017?
We need content that will make people buy VR headsets. To make better VR content, you need better tools. We developers should make sure that when someone is trying out VR for the first time, the experience should be motion sickness free and something people can't experience in other mediums.
To meet VR developers and publishers, why not come to our own VR Connects event in San Francisco this June? Tickets are available now.