Every week, we share nine XR stories from around the web that caught our eyes here at TheVirtualReport.biz:
1) Facebook's vision of the metaverse has a critical flaw
Is this metaverse talk exciting? Sure. Is this new? Hardly.
2) IriTech, Patron Team Up On Biometric Module for AR/VR Smart Glasses
"The biometric technology will enable convenient user authentication while wearing a smart glasses or headset product, while the eye tracking will help to facilitate interaction with Augmented Reality and Virtual Reality interfaces."
3) Astronauts on the ISS are using augmented reality apps to help with repairs
"AR tools hold the promise of allowing us to pre-package guidance and expertise,"
4) Apple wins a Major HMD patent covering a Direct Retinal Projector System designed to Resolve the Convergence-Accommodation Conflict
Apple describes their mixed reality headset being connected to a MacBook, iMac, iPad or game controller
5) Dimension Studio: How fashion is being brought to the metaverse
A London-based startup has worked with Balenciaga, Jean Paul Gaultier and H&M on avatars, VR, AR and virtual production. Here's why all fashion brands should take note.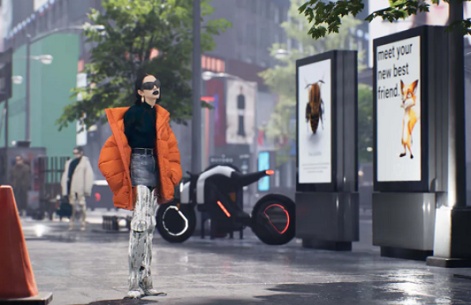 6) Netflix quietly developed a VR tie-in for its 'Eden' anime series
You can download 'Eden Unearthed' from the Oculus App Lab now.
7) We created holograms you can touch - you could soon shake a virtual colleague's hand
In some ways, its a step beyond the current generation of virtual reality, which usually requires a headset to deliver 3D graphics and smart gloves or handheld controllers to provide haptic feedback, a stimulation that feels like touch.
8) On the Set of Fox's Trippy New Reality TV Show, Which Turns Singers Into… Aliens?
A behind-the-scenes look at how the musicians behind Alter Ego's CGI avatars will compete to wow judges Grimes, willi.i.am, Alanis Morissette, and Nick Lachey
9) Why companies are using virtual concerts to introduce their users to the metaverse
As everyday life increasingly moves into digital spaces, companies are taking advantage of consumers' enthusiasm for virtual concerts to introduce them to the concept of the metaverse.