Solomon Rogers, CEO and Founder of REWIND, examines the evidence that VR has the potential to change every area of our future lives.
The way we communicate is an ever-changing discipline. Each new technological innovation brings new channels and new opportunities for people to consume and disperse information.
With investment in VR is at an all-time high and backed by the major tech players—Samsung, Facebook, Sony and HTC—it's an emerging channel that's difficult to ignore. Plus with revenues set to top US$120 billion by 2020 for both VR and AR platforms, it's poised to create a dramatic impact in every industry. In fact, according to former Oculus CEO Brendan Iribe, Virtual Reality is about to, "Fundamentally change communication".
Digital platforms have long enabled a more creative approach to communications and the way content is created for these channels is changing yet again. VR, 360 degree immersive video and photography are revolutionising the way we tell stories. So what does this mean for the future of communication?
Virtual Reality Allows Us To Communicate 'Face-To-Face'
Video conferencing has been integral in facilitating remote interactions between business professionals, and has seen great success through platforms such as Skype and FaceTime. Now, VR looks set to transform that technology further.
Two business professionals from opposite ends of the world can 'meet' virtually in the same space to conduct a conversation face-to-face. Aside from reaching out to shake hands and putting a hand through thin air, that interaction can be as real as actually being present in the same room.
AltspaceVR wants to make these VR chat sessions part of everyday life. With their companion app for smartphones, they're pitching VR chat like Skype sessions, but it's more about shared activity than pure conversation, with the option to 'meet' in environments such as game rooms, mazes, or virtual art galleries.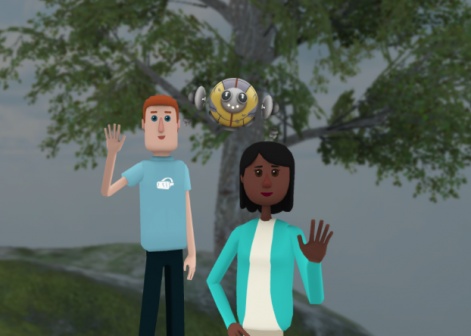 If a picture is worth a thousand words, and a video is worth a million people, imagine the worth of a virtual experience.
Sol Rogers
Virtual Reality Will Increase The Ease Of Conceptualisation
If a picture is worth a thousand words, and a video is worth a million people, imagine the worth of a virtual experience.
With VR and 360 degree video production, we can put audiences anywhere. Whether that's giving viewers the chance to watch Strictly Come Dancing from the best seat in the house, witness an intimate beachside performance by Björk or take a walk in space, Virtual Reality is more than just seeing a scene. It offers a chance to really be there.
And it's not all about entertainment. Real estate companies are helping to lead the charge in the three-dimension modelling industry, like Matterport, who announced that they had converted their entire database consisting of over 250,000 image maps into VR, with the ability to walk around and tour those spaces with leading VR headsets.
VR is the perfect tool to create impactful experiences that leave a lasting impression on the user.
Sol Rogers
Virtual Reality Will Become Marketing And Communications Teams' New Tool
Audiences are increasingly becoming more demanding; they want to be entertained and engaged in new and innovative ways. VR is the perfect tool to create impactful experiences that leave a lasting impression on the user.
Our recent project with Imagination to deliver the Jaguar I-PACE concept to the world at the LA Motor Show pushed the boundaries further than ever before, with the inclusion of social interaction and a live presenter broadcast into a single VR world.
VR production is unrivalled in its capacity to build environments from a brand's vision, and have audiences inhabit them. If communications professionals want real outcomes, interactive, fully immersive content is extremely powerful.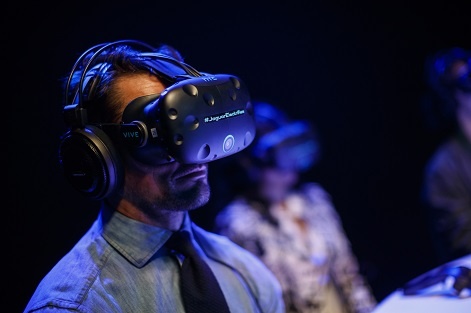 Virtual Reality Improves Understanding
Storytellers are making use of user-driven, interactive discovery to propel narratives in Virtual Reality. New York Times' new VR app, nytvr, is just one example of an organisation making use of virtual reality to convey stories and messages that are more exploratory and compelling.
Of course VR has its place within the entertainment industry, but increasingly we are seeing it used in training and development across a range of verticals. Virtual Reality in such fields as design and engineering, even medicine and science, offers learners a way to visualise their product and gain a better understanding of it. We know that video is a better educational tool than text, so imagine the effectiveness of taking someone to a reality they can experience and learn from as if they were actually there.
A revolution that will change the way we interact with others as we live, work and play.
Sol Rogers
Virtual Reality And Connectivity
Mark Bolas is a professor at USC's School of Cinematic Arts and a researcher at the Institute for Creative Technologies. In an interview with BBC News, he explains that VR is allowing us to escape our current attachment to computer interfaces, making "A space that allows us to harness our emotions, our desire to connect with people."
This TED talk by film producer Chris Milk, further shows the power of VR. He argues it is an ideal means to build empathy by putting yourself subjectively in the point of view of the protagonist.
Altspace marketing director Jerry Gottheil revealed, "When you meet with somebody in VR, there is a sense that you are together, that you experience something with that person in a way that you wouldn't [otherwise]." He noted too that VR allows us to experience a real sense of proximity.
Heralded by Facebook's symbolic foray into the socially-connected virtual reality ether, we're on the cusp of a revolution that will ultimately change the way we interact with others as we live, work and play.
About The Author
Solomon Rogers is the Founder and CEO of REWIND, the VR content studio behind international award winning work such as the BBC's Home: A VR Spacewalk, Björk's NotGet VR, Red Bull Air Race VR and the acclaimed launch title Project Falcon for the FOVE eye-tracking VR headset.
Solomon was a University of Hertfordshire Senior Lecturer for 15 years in Digital Animation, VFX & Emerging Technology, writing four Degrees, two Masters and supervising PHDs during his time there.
He is a BAFTA VR Advisory Group Executive, an advisor and board member to globally recognised conferences including Autodesk University, FMX.de, Develop:VR, MIPCOM and MIPTV. Solomon also co-founded the nonprofit initiative VRTogether.org, designed to create VR for good, and founded the UK's most popular VR meetup, VRLO.
Sol was recognised as one of the digital industry's brightest stars in the BIMA HOT 100 in 2016, and is a well known and respected VR evangelist and prominent international keynote speaker, often quoted in press and on TV.