Sarah Blackburn is the director of GameOn Marketing, which works with clients such as SlotsMillion and OffsideGaming.
One of the main challenges of the nascent virtual reality industry is to convince Joe Public of its sheer mind-rearranging awesomeness.
Clearly, those who have not yet experienced full high-end VR struggle to imagine its full potential.
And, despite the fact that everyone of a certain generation has been waiting for this technology to arrive since the early 1980s - when we stumbled out of movie theaters pretending to be Tron - consumer awareness of VR is low.
In fact, according to a study by Touchstone Research, 59% of Americans are blissfully unaware of VR.
Only 22% of the survey had heard of Oculus Rift and just 8% have experienced some kind of VR themselves.
When not if
This lack of consumer awareness is prompting analysts to downgrade their predictions for the growth of the VR market in 2016, and they are they are probably right to do so.
Speculating about the timeframe of a path to mass adoption is a fairly useless preoccupation.
The truth is we can't really know for sure; all we know is that it will happen, and it will happen because it will be driven by powerful multinational tech companies.
Companies like Sony, Microsoft and Google have invested far too much in VR already.
And with three headsets currently vying for domination of what they believe will one day be a multi-billion-dollar industry, there is an urgency to invest more and educate the masses sooner rather than later.
There is an urgency to invest more and educate the masses sooner rather than later.
Meanwhile, VR start-ups are staying necessarily lean, while mid-sized software companies are taking a wait-and-see approach, as they prepare to ally themselves, perhaps, with an early market leader.
High-end VR experiences are, after all, expensive and complicated to produce.
All of this means content production is currently constricted by a lack of movement in the market, but the floodgates should open as the market begins to grow.
Which sector will explode first?
Growth will be driven by the marketing wealth of tech giants, but just how VR is marketed, and through which channels, will be interesting to watch.
Education is a must, but VR does not necessarily lend itself to traditional marketing channels, especially if we agree that seeing is believing and first-hand experience is all that matters.
Of course there are useful 'VR-lite' experiences, such as 360 degree videos, and it's very likely that most people's first engagement with VR will be through mobile.
After all, Samung said it's sold over 300,000 Gear VRs in Europe already in 2016.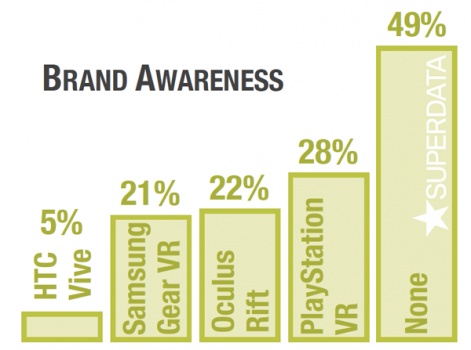 But high-end VR - the real deal - will need go on the road, exhibiting its virtues through real life demonstrations.
It will spread by word of mouth, among early-adopting Millennials, and their younger brothers and sisters of the so-called Generation Z.
There are already 12 million VR-ready PCs out there.
Cost will be an inhibitor, of course, but according to SuperData Research there are already 12 million VR-ready PCs out there and growing. Meanwhile, gamers will soon be able to experience VR on the PlayStation 4 for half the price.
First move advantage
It's worth noting also that VR can be a marketing channel in and of itself.
SlotsMillion VR - the world's first real-money online VR casino - ignored all the advice about "waiting-it-out," and dived right in, because it thinks that being the world's first anything is likely to get you places.
This despite there being as yet no VR online casino market to speak of, which means most people experience the product via the downloadable 3D version.
But at the moment this doesn't matter, says SlotsMillion co-founder Alexandre Tomic.
"Our VR casino is an acquisition tool and a retention tool," he said.
"We advertise it as the world's first VR casino and invite people to play the downloadable 3D version because they do not yet have the hardware. We take the goggles to shows so they can experience the VR and have their minds suitably blown.
"SlotsMillion VR attracts partners and it attracts players, who tend to stay longer in the casino and also tell their friends about it, and this has strengthened our brand.
"Our business from affiliate marketing has tripled as a result."
Analysts may have tweaked their forecasts, as analysts often do when they realize they may have become over-excited, and the rollout of VR hardware has been necessarily cautious.
But today's consumer is used to accepting and adopting new technologies, and will do so again.
The VR hype will be ramped up a notch over the next 12 months. But always remember, this is one trend that actually lives up to the hype.