Update: 3rd March 2017
Following an announcement by Google, we've updated the total number of consumers that own a VR headset to 18,151,410.
Total VR HMDs sold (leading platforms): 18,151,410 (updated)
• Google Cardboard: 10,000,000 (updated)
• Samsung Gear VR: 5,000,000
• Baofeng: 1,400,000+
• PS VR: 915,000
• DeePoon: 566,410++
• HTC Vive: 140,000
• Oculus Rift: 130,000
Google Cardboard: 10,000,000 units
Amit Singh, VP of VR at Google, announced at this week's Mobile World Congress in Barcelona that Google Cardboard has shipped 10 million Cardboard VR sets to date. The entry-level system continues alongside the company's higher spec Daydream hardware.
Summary
You can almost hear the marketing team at Google singing, 'Anything you can do, I can do better' as they planned their response to Samsung's recent reveal that 5m consumers own a Gear VR. With the introduction of Daydream as Google's premium mobile VR hardware, Cardboard has been relegated to an affordable promotional tool in many ways. We'll be more interested to compare Daydream figures against Gear VR in the coming months.
--
Update: 27th February 2017
Thanks to new information released by Samsung and Sony, we've updated the total number of consumers that own a VR headset to 13,151,410.
Total VR HMDs sold (leading platforms): 13,151,410 (updated)
Google Cardboard: 5,000,000+
Samsung Gear VR: 5,000,000 (updated)
Baofeng: 1,400,000+
PS VR: 915,000 (updated)
DeePoon: 566,410++
HTC Vive: 140,000
Oculus Rift: 130,000
Samsung Gear VR: 5,000,000 units
Samsung Electronics America president Tim Baxter announced at CES last month that the company has sold 5 million Gear VR headsets, as reported by VentureBeat. We fully expected the actual number to be higher than the 1,000,000 stated by Samsung in May last year, but an additional 3m units in seven months equates to an average of 100,000 units per week.
This moves the Korean manufacturer up to join Google Cardboard at the top of the table; we've kept Cardboard at the top as there have been 12 months' additional sales to consder since they last released information.
Sony PS VR: 915,000 units
Sony has sold 915,000 PS VRs between its October 2016 launch and 19th February this year. This information was revealed by Andrew House, Global Chief Executive at Sony, during an interview with the New York Times. This more than triples our original conservative estimate and we now expect Sony to easily exceed their own 1m target by mid-April.
Summary
As we said at the time, we used minimum values to come up with our original total of 8.5m consumer VR units last November to create a realistic picture of the market without influence from inflated forecasts. We always expected the total to grow considerably as new information became available to us, but we're thrilled to be able to update the total to a credible eight-digit number so soon.
--
Original Article: 11th November 2016
Just how many consumers have VR headsets right now? It's an almost impossible question to answer, but we'll give it our best shot... About 8.5 million. That's the short answer. There are just over eight-and-a-half million consumers that own a VR headset towards the end of 2016. Read on for the long answer...
Full disclosure? We don't know! What's more, nobody knows. Unlike just about any other tech market we've experienced, sales data is unusually hard to come by in VR.
What we've done here is pull together the information we've gleaned from our industry contacts, announcements, press releases and manufacturers' blogs to come up with some meaningful numbers. We've resisted the pull of optimistic forecasts, projections and ambitious claims about market share to come up with minimum values that we think reflect the actual size of the market today to the best of our knowledge.
Total VR HMDs sold (leading platforms): 8,536,410
Google Cardboard: 5,000,000+
Baofeng: 1,400,000+
Samsung Gear VR: 1,000,000+
DeePoon: 566,410++
PS VR: 300,000
HTC Vive: 140,000
Oculus Rift: 130,000
It looks like there are more Google Cardboards in the wild than all the other leading platforms combined. That's a landslide victory for Google then?
Not so fast! The picture looks very different when we take the hardware unit cost into account, which sees Cardboard fall to the bottom half of the table. Rift and Vive are also promoted from last place into the top four. These values have been calculated based on reported sales figures or user numbers, multiplied by full retail price in US dollars.
Total value of VR Hardware sales (leading platforms): $561,923,000
Google Cardboard: $75,000,000
Baofeng: $42,000,000
Samsung Gear VR: $100,000,000
DeePoon: $34,923,000
PS VR: $120,000,000
HTC Vive: $112,000,000
Oculus Rift: $78,000,000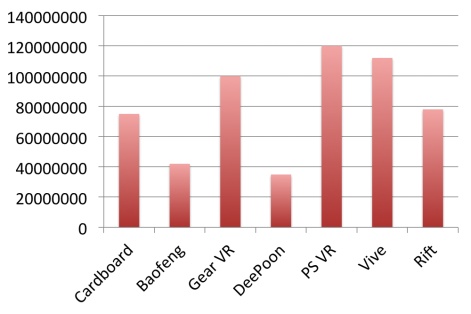 This graph clearly shows that PS VR already seems to be hitting the sweet spot between performance and price predicted by many in the industry.
Getting back to units sold and to put those numbers into context; VR is a young industry and very much an early adopter's market. Ignoring the bottom end of the market that will be inflated by marketing giveaways, the main three formats (PS VR, HTC Vive and Oculus Rift) average nearly 200,000 units to date; that's not bad for an expensive consumer electronics product. But it falls far short of Apple's similarly priced iPhone, which famously sells 667,000 units every day.
Let's look at the sales figures for each VR platform in turn and explain how we came up with those numbers.
Google Cardboard: 5,000,000+ Units
This one was easy – if a bit out of date. In January, Clay Bavor VP VIRTUAL REALITY at Google blogged that, "5 million Cardboard fans have joined the fold." That number will undoubtedly have risen in the past 10 months.
Baofeng: 1,400,000+ Units
Baofeng Chief Executive Officer Feng Xin revealed in March that the company had sold 1 million units of its $30 headset during the first quarter of 2016. If Baofeng has maintained similar levels of sales in the following months, their total could be nearer to four million. In addition to this, Superdata Research reported that, "The previous 'toy version' (Mi Play0) sold 400K sets". Speaking in Beijing, Xin also announced the company is targeting 10 million sales by the end of 2016.
Samsung Gear VR: 1,000,000+ Units
Another easy one, but again slightly behind the times. On May 11, Oculus blogged that, "Over one million people used Gear VR last month". Again, more units will have been sold in the last six months.
DeePoon: 566,410++ Units
This is one number that we may have massively underestimated, but we can only base our estimate on reported sales figures. DeePoon's V2 sold half a million units last year, while the M2 achieved more than 20,000 pre-orders between April and June this year. The Kankan headset also attracted 46,410 buyers in the 40 days of a crowdfunding campaign on Taobao. Deepoon also runs 3D BoBo, the biggest VR content platform in China, with 5 million users.
PS VR: 300,000 Units
Sony has yet to release sales figures for its PS VR headset since it launched last month. So where do we get 300,000 from? In an interview with CNBC at launch, Sony Interactive Entertainment Europe President and Chief Executive, Jim Ryan, said that launch sales for the device will be in the "Many hundreds of thousands". On 1st November, Sony's Chief Financial Officer, Kenichiro Yoshida, said that, "The sales of PS VR are on track."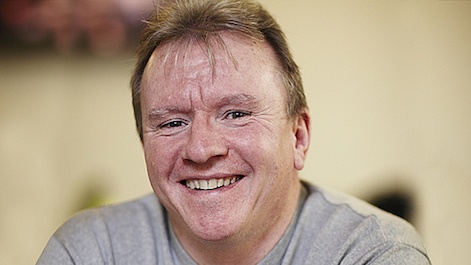 The question is: what constitutes 'many hundreds of thousands'? Certainly not one and not two – that would be a couple – so the minimum we'd expect is 300,000, possibly more. If that figure sounds high, we know that PS VR sold more than 50,000 units in the first few days of its release in Japan alone. This was reported by Japanese gaming site 4Gamer, using data compiled and provided by Media Create that showed 51,644 units sold for the week of October 10 to October 16. Assuming a similar take-up in other territories, 300,000 doesn't seem an unreasonable number.
HTC Vive: 140,000 Units
Last month, HTC Co-founder and Chairperson Cher Wang told Japanese site 87870 that the number of Vive headsets sold, "Definitely far exceeds 140,000". That's 40,000 more than the 100,000 stated in August by Alvin Graylin, China Regional President of VR at HTC, suggesting sales in the region of 20,000 units per month. The latest data from market tracking company CONTEXT indicates this figure could now be nearer 200,000 units sold.
Oculus Rift: 130,000 Units
Really, who knows? Well, Oculus does of course, but they ain't talking! This is the impossible one to accurately calculate. The only number that's out there right now is courtesy of our friends at CONTEXT once more, putting Rift units sold around 130,000.
They haven't just plucked this figure out of the air either, basing their estimate on a combination of shipping records, Steam Hardware Surveys, and SteamSpy user statistics. Still, this number is nearly 100,000 greater than Road To VR's guesstimate of 36,000 CV1s attached to Steam; the difference presumably from consumers who are perfectly happy in the Oculus store.
But this figure could be conservative, as information provided to us by Superdata Research shows that, "Rift has sold 267,000 YTD, based on retail checks, executive interviews and data from their providers."
What we do know is that at its June 2015 Step Into The Rift event, Oculus announced more than 175,000 dev kits had been sold by June 2015, comprising both DK1 and DK2. Since we're trying to work out the size of the consumer VR market, we didn't include these figures in our totals, but you could reasonably assume that many of the dev kits went to consumers who were too impatient to wait for retail and that many devs are also consumers in their own right. So the sales total for Rift to date? Like we said, nobody knows.
Conclusion
So what does it all mean? Well, as you might expect, the companies with big numbers are happy to share sales figures, while those at the bottom of the table are more guarded. It's no surprise either that a product costing around £10 will sell in greater volume than one costing £550.
But what we have no way of knowing is how many of the Google Cardboard and Samsung Gear VR users actually paid for their headsets. Both formats have been heavily discounted or given away free to consumers as incentives for larger purchases, such as mobile phones. While that has no bearing on the actual size of the user base, it may well affect the potential for active and engaged users who are likely to invest in VR content.
Ultimately, as careful and rigorous as we've been in assessing the size of the VR market towards the end of 2016, we've had to make assumptions and join the dots together. The actual number of users with VR HMDs could be much bigger, or potentially smaller, but it's been an interesting exercise pulling all this data together and we hope you find it helpful – as long as you take it all with a pinch of salt!
If you're aware of data that we've overlooked, please do get in touch and we'll update this article. You can reach the Editor at [email protected]