Tim Merel, Founder/CEO Eyetouch Reality and Digi-Capital, talks us through the global investment patterns that have seen the overall growth trend for AR/VR investment increasing for more than two years straight.
Half a billion dollars was invested into Virtual and Augmented Reality start-ups in the third quarter of this year, with a record $2.3 billion dollars invested in the last 12 months. Q3 2016 saw the 9th straight quarter of investment trending upwards, as the money flowing into AR/VR is now being driven by major Sand Hill Road VCs and corporate investors. With cheques averaging $9.3 million (or $16.4 million excluding seed deals) in the quarter, AR/VR investment is rapidly going mainstream. Details are in Digi-Capital's new Augmented/Virtual Reality Report and Deals Database Q3 2016.
The mainline VC and corporate world accounted for 86% of the number of investors in AR/VR start-ups in the third quarter. The big name financial investors included Fidelity, Intel Capital, Softbank, Kleiner Perkins Caufield and Byers, Sequoia, DCM, Qualcomm Ventures, Raine, CITIC and more. The roster of corporate investors joining the fun added Amazon, Alibaba and News Corp. So while specialist AR/VR VCs drove the early investment market, growing confidence and cheque sizes have led to the number of mainstream investors accelerating.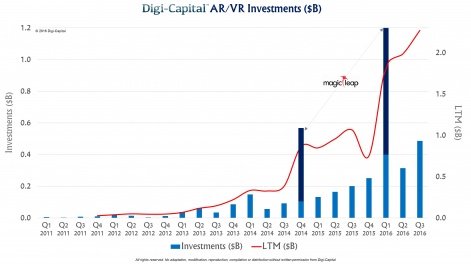 Excluding Magic Leap's massive rounds in 2014 and at the start of this year, the overall growth trend for AR/VR investment has now been upwards for over two years. In the context of more general concerns about tech market investment, that continued confidence on the part of serious investors that virtual, augmented and mixed reality are the fourth wave of consumer technology change is even more impressive.
As investment has continued to grow, the balance of where the money is going has become broader. While Magic Leap's $793.5 million round was astonishing, it took less than $4 of every $10 invested into the market. VR/AR solutions/services was the next largest category, with video following close behind, including NextVR's $80 million round from heavyweights like CITIC, Netease and Softbank.
Moving beyond AR Head-Mounted Displays, VR HMDs still took in a respectable level of investment despite the presence of major corporate competitors like Facebook, Samsung, Sony and HTC/Valve. AR/VR peripherals, games, advertising/marketing, applications, tech and distribution startups also raised substantial amounts.
As the AR/VR market goes through the well-trodden path of hype cycle, facing reality, lift-off and maturity, the smart money is looking to the long term. VR will be big. AR will be bigger (and take longer). While exact market timing is impossible to predict (as evidenced by the unanticipated success of Pokémon Go), folks who know how early stage investment markets work are betting increasingly heavily on AR/VR's potential.
About The Author
Tim is Founder/CEO of Eyetouch Reality (next generation visual messaging platform for VR/AR) and Digi-Capital (VR/AR M&A adviser). Tim is a software engineer, investment banker and lawyer, and also regularly writes VR/AR columns for the media. As well as being a global VR/AR leader, Tim is the most connected person on the planet across the market, and hosts Digi-Capital's Reality Check quarterly forum for VR/AR CEOs, corporate divisional heads and VC General Partners by invitation only.
This article was first published on Digi-Capital.com. Reproduced by kind permission.