Driving through Shanghai's beautifully landscaped Century Park, before then entering the grand hall that would host the final of the Global VR Challenge, you could easily think you were walking into this year's latest television talent contest final.
In fact, in many ways this is exactly what was happening. Whilst this wasn't a singing competition, DeePoon and Steel Media's Global VR Challenge was certainly set to showcase the best talent from the world's VR scene in this grand final.
The long road
For the 10 entrants from outside of China who had made it this far, the opportunity was certainly deserved.
Having beaten 70 other entries across multiple judging rounds, winning an expenses paid trip to China and a range of VR hardware in the process, all 10 were more than ready to pitch their concepts one last time.
However, they weren't going to do it alone. For this final round they would also be joined by six champions from around China.
All 16 of battling it out for a share of the $35,000 cash prize pool, and the chance to be crowned the Global VR Challenge champion.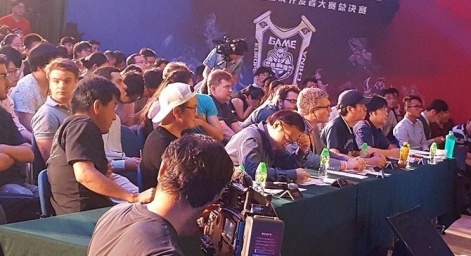 For the final round, the judging panel would include some of China's leading VR experts, such as DeePoon's Leon Zhang, Kingnet's Fred Cai, Alpha's Holly Ho and 87870's Andrew Kim.
What's more, whilst some last minute preparations were going on, all 16 finalists were whisked away for a range of interviews with some of China's biggest VR journalists.
These journalists would then also be a part of the final's 200-strong audience that included some of the most influential members from the Chinese VR industry.
The grand final
The audience and the judges weren't the only aspects of the event that screamed quality though.
Whether it was production values, the entertainment for the audience, or even the charismatic presentation of DeePoon's Senior CP Manager William Yu, who hosted the final in both English and Chinese, you could tell no expense had been spared.
It was a hard fought contest that had the judges hotly debating between themselves after all the pitches were over.
Nevertheless, it was the contestants who stole the show, as it should be. As part of the final, each contestant was given four minutes to pitch their title, with a Q&A session with the judges also conducted after every two contestants had pitched.
Each pitch consisted of both a video and a presentation, both of which complimented the judges extensive hands-ons which took place both before the event, and throughout the day in the build-up.
And the winners are…
All in all, it was a hard fought contest that had the judges hotly debating between themselves after all the pitches were over.
In fact, the results were so close that the judges had to extend the prizes, and give two special mention prizes to CEO's Pet Software for S.P.Y. Robot, and Computer Lunch for SwingStar, both of whom walked away with $500 each.
Following these special mentions, it was time to announce what everyone had been waiting for, the top five.
The final top five alongside their prizes were as follows:
1st place – Reflections (Broken Window Studios) - $17,000 Prize
2nd place - Heroes of the Seven Seas (Mirage Interactive / Youku) - $9,000 Prize
3rd place - Bombu (Northeast Silver / GameD9) - $5,000 Prize
4th place - Space Box: The Journey Out Of The Box (Tom Graczy) - $2,000 Prize
5th place - QUBE 2 (Toxic Games) - $1,000 Prize
Nevertheless, given how close the competition was, it was only fitting that every contestant was awarded with a beautifully crafted glass statue to commemorate their achievement in making it to the final stage.
China Joy
This wasn't the end of the adventure for any of them though, as this grand final was then followed by Asia's biggest gaming show, ChinaJoy.
Reflections impressed with its moving storyline, decisional butterfly effect gameplay and beautifully crafted presentation.
This event brought with it an opportunity for all of the finalists to put their games in front of a packed conference full of VR hungry Chinese gamers. There was also, of course, some much needed partying and sightseeing to go along with all of this VR activity.
All in all, the Global VR Challenge certainly lived up to its aim of celebrating the best of today's VR talent and concepts.
This was no more true than when looking at the winner Broken Window Studios', and their game Reflections.
It's a game that impressed the judges in more ways than one thanks to its moving storyline, decisional butterfly effect gameplay and its beautifully crafted presentation.
You can check out our photo gallery from the event on the Pocketgamer.biz Facebook page.