You've got your tickets to XR Connects London 2018 already, right? In which case, we don't need to tell you about the amazing line-up of speakers and activities taking place near the Barbican on 22nd and 23rd January 2018.
But just to refresh your memory, because of course you definitely have your tickets already*, it's going to be the most amazing professional conference we've thrown for the VR, AR and MR community to date. You're going to learn from the best and brightest names in the immersive tech universe and network with the world's XR leaders!
* You got your 10% off right? Using code XRBIZ10? Good.
Top Tier Talent
The XR Connects programme boasts some heavyweight contributors. You'll hear from…
Adam Robaszyński-Janiec, The House of Fables
Brynley Gibson, Curve
Chris Donahue, AMD
Cindy Mallory, Dream Sail Games
Jan Wagner, Black Cell
Jason Lovell, Captivate VR
Josh Naylor, Unity
Mark Ollila, UX-fit
Martin de Ronde, Force Field VR
Marty Green, Coatsink
Nick Rooke, PlayStation VR
Nizar Romdhane, Virtual Arts
Pablo Navajas, 3OGS
Pete Jones, CherryPop Games
Pete Speller, Greenpeace
Sam Gage, The Third Floor
Sam Watts, Make Real
Samantha Kingston, Virtual Umbrella
Sami Hamid, Glitch Studios
Simon Benson, Realised Realities
Tim Luft, VR Simulation Systems
Tommy Palm, Resolution
Tracy Spaight, Wargaming
Travis Ryan, Dumpling Design
And loads more...
Why else have you definitely bought that ticket to XR Connects? Well, because of the immense networking potential of course. Where else is there a completely free meeting system, an indie pitch competition for XR developers and a huge Global Connects party where 2,000 delegates let their hair down together? Where else will you get access to a mobile and PC developer conference thrown in?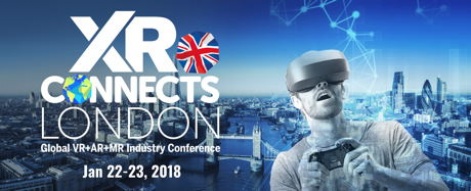 And there's all this (show it to your department manager during your January planning chat):
We've been running the Connects international conference series since 2014 – that's 13 events in the UK, North America, Finland, India… and every one has been bigger and better than the last
For London 2018, the whole event will have 2,000+ delegates from every corner of the industry – indies, dev studios, publishers, c-level executives, investors, service providers, hardware manufacturers, students, media and more
Full international representation with over 55 nationalities in attendance
Across XR, PC and mobile you'll see 950+ companies ranging from the biggest names to promising start-ups
An expo area showcasing the latest unmissable – and often undiscovered – talent in XR, mobile and PC
VR, PC and mobile Indie Pitch competitions, set to unearth 'the next big thing'
More than 5,000 business encounters through our free meeting system
Dedicated and curated publisher/developer and investor/developer meeting sessions
Networking-tastic options, from arranged SpeedMatch encounters to the renowned Global Connects after-party, everything is centred on you making the connections that matter
Includes Europe's largest dedicated mobile games industry event! One ticket, three conferences: you get full access to associate conferences PC Connects and PGC Connects alongside XR Connects
If for some bizarre reason you haven't booked your tickets yet, use code XRBIZ10 to get 10% off right now while there's still time! You'll get to meet us - and other media representatives - there too, so bring your latest projects.